Propper® Right to the Core
Propper® is a leader in the production of military, tactical and law enforcement uniforms. Propper has been a contractor to the US Military for more than 40 years, and one of our original suppliers of BDU pants and coats.
Over the years Propper has significantly expanded their offerings by adding equipment including packs, bags and pouches. Propper continues to make MIL-Spec clothing such as BDU's, ACU's, Flightsuits, etc, but also produces high end tactical pants and shirts; as well as uniforms for law enforcement, security and EMS.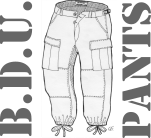 As Canada's source for Propper clothing and equipment, we stock a large selection of their products for immediate sale and shipping (free on order over $100, only $7 if order is under $100 to most Canadian addresses). If we don't have the item instock, we will bring it into Canada quickly after your order is placed.
We are Canada's Source for Propper Clothing and Equipment!
Propper® BDU Pants have been one of most popular selling items since we began in the early 1990's. For that reason, we created a special category for the cargo pants that are as comfortable on a tropical beach during vacation as they are during military maneuvers.
Propper BDU Pants, the most comforable pants you will own. click here for our BDU Pant Category.