Kahtoola® Boot Chains and Winter Traction
Fun on the wrink, terrible everywhere else - Ice. As Canadian's, we know that there are two sides to our frigid temperatures. There are winter sports, great views, and snowballs, but there is also slipping, falling, and freezing. Kahtoola's will not keep you warm, but they are the best way to avoid injury from slipping on ice. Kahtoola® is the leader of slip prevention with their line of Nanospikes®, Microspikes®, Exospikes®, Hiking Crampons and Accessories.
When looking to buy boot chains from Kahtoola® we are Canada's source.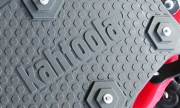 NANOspikes® allow you to run across slippery, frozen surfaces with ultralight, low-profile traction. Like studded snow tires for your feet, the NANOspikes® bite into icy sidewalks or roads while preserving shoe flexibility.
MICROspikes® deliver unrivaled traction on icy winter trails. MICROspikes® traction is tough enough to handle any adventure with stainless steel spikes and welded chains.
EXOspikes® It's the first cross-terrain winter traction product to truly serve the versatile needs of trail runners, hikers, and outdoor enthusiasts. EXOspikes are perfect for the trail and for taking your dog on a walk.
We are Canada's Source for Kahtoola® Boot Chains and Winter Traction