Kahtoola® Hike - Trek - Explore!
As Canadians we know winter is tough. One of winter's challenges is slipping on ice. The best way to avoid injury form slipping on ice is by wearing boot chains. Kahtoola® is the leader of slip prevention with their line of Nanospikes®, Microspikes®, Hiking Crampons and Accessories.
When looking to buy boot chains from Kahtoola® we are Canada's source.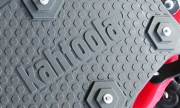 Nanospikes® allow you to run across slippery, frozen surfaces with ultralight, low-profile traction. Like studded snow tires for your feet, the NANOspikes® bite into icy sidewalks or roads while preserving shoe flexibility.
We are Canada's Source for Kahtoola® Boot Chains and Winter Traction
MICROspikes® deliver unrivaled traction on icy winter trails. MICROspikes® traction is tough enough to handle any adventure with stainless steel spikes and welded chains.